Fuel Gas Supply System
PURIGAS
PURIGAS™ is the package solution for Fuel Gas Supply System(FGSS).
It means PURe and Intelligent GAS storage and supply system.
Although FGSS is the most effective solution for IMO's SOx,
NOx and GHG emissions restriction, CAPEX and installation space are heavy obstacles
to adapt FGSS solution.
To solve this obstacles, PURIGAS™ has been developed from the accumulated
technology for LNG related equipment and engineering capability of S&SYS and
Samsung Heavy Industries(SHI). As accumulated know-how, PURIGAS ™
will provide the most economical and the most reliable package system to customer.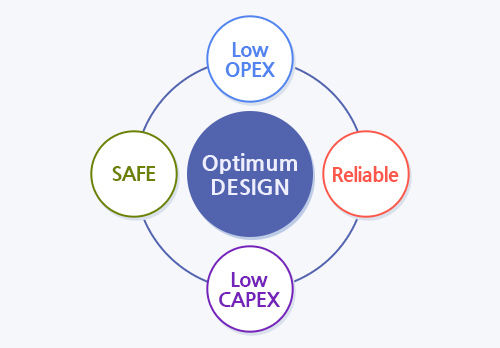 Background of Environmental Issue ( SOx )
Reinforcement of regulations for the conservation of the marine atmosphere by IMO, under the UN
1997 MARPOL Protocol : SECAs ( ECAs)
| | |
| --- | --- |
| Baltic Sea | Adopted 1997/ into force 2005 |
| North Sea | Adopted 2005/ into force 2006 |
| North American coasts | Adopted 2010 / Into force 2012 |
| US Caribbean Area | Adopted 2011 /Into force 2011 |
Outside an ECA
Inside an ECA
4.5%

prior to 1.Jan. 2012

1.5%

prior to 1.July. 2010

3.5%

on & after 1.Jan. 2012

1.0%

on & after 1.Jul. 2010

0.5%

on & after 1.Jan. 2020

0.1%

on & after 1.Jan. 2015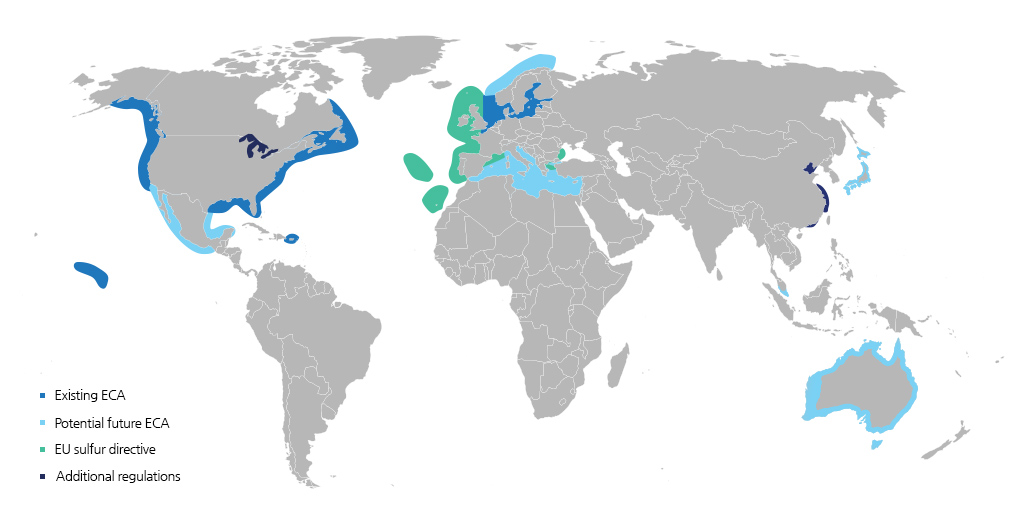 Existing ECA zones and possible future ECAs
Background of Environmental Issue (NOx & GHG)
NOx Emission Control Areas (NECA)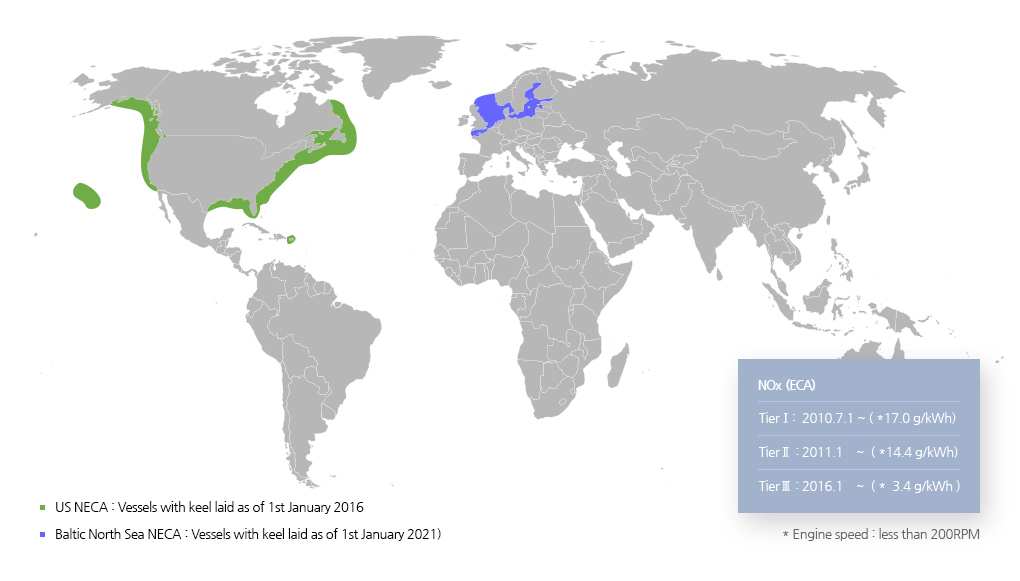 Initial IMO strategy on Reduction of GHG emissions from ships
Level of ambition
Timeline

Carbon intensity of ships to decline

Strengthening of EEDI requirements for new ships

Short-term measures: 2018–2023

EEDI improvement (Energy Efficiency Design Index)
SEEMP improvement (Ship Energy Efficiency Management Plan)
Speed regulation
Methane slip regulation
VOC regulation (Volatile Organic Compounds)

Carbon intensity of shipping to decline

to decrease 40% CI (carbon Intensity ) by 2030.
to decrease 70% CI (carbon Intensity ) by 2050 to decarbonize
as soon as possible within this century.

GHG emission from shipping to decline

50% reduction of GHG emissions by 2050 relative to 2008

Mid-term measures: 2023–2030

Low-carbon/zero carbon fuels introduction
Operational energy efficiency requirements
Market-based measures

Long-term measures: > 2050

Zero carbon/fossil-free fuels for 2050 and late
Reduction ratio of harmful gas by using FGSS
By using Natural Gas Instead of MDO, CO2 is reduced about 23% and SOx, NOx and PM are reduced more than 92%.
* Source: Marintek Report from Rolls-Royce DF Engine
Why PURIGAS™
Total Package Service for Engineering & Supply

- Full package for Engineering FGSS and FGSS equipment
- Turn key delivery of FGSS including S&SYS's own control system (AMS, ICMS, IAS)

Engineering Support with Proven Technology and Operating Experience for various vessels

- Reliable Engineering based on Reference and site experience in various of FGSS project.
- Post docking operation with N2 , Bunkering operation, Pre-docking operation, Gas trial.

Engineering Data for Ship Design Relevant to FGSS

HAZID, HAZOP / FMEA / Cause & Effect / FAT procedure / SAT procedure/ Gas trial procedure FDS(Functional Design Specification) /
Tank preservation procedure/ Operation & Maintenance manual/ Double pipe drawing, etc.

Particular FGSS Control System for High Performance

- Strong & Reliable Hardware
- Providing Diagnostic Mimic of Automation System
- Providing Logic Programming Tool for Function & Sequential Flow, Real Time Monitoring
- Easy Maintenance with Search function, Change alarm set value
Flow Diagram
Flow Diagram for ME-GI engine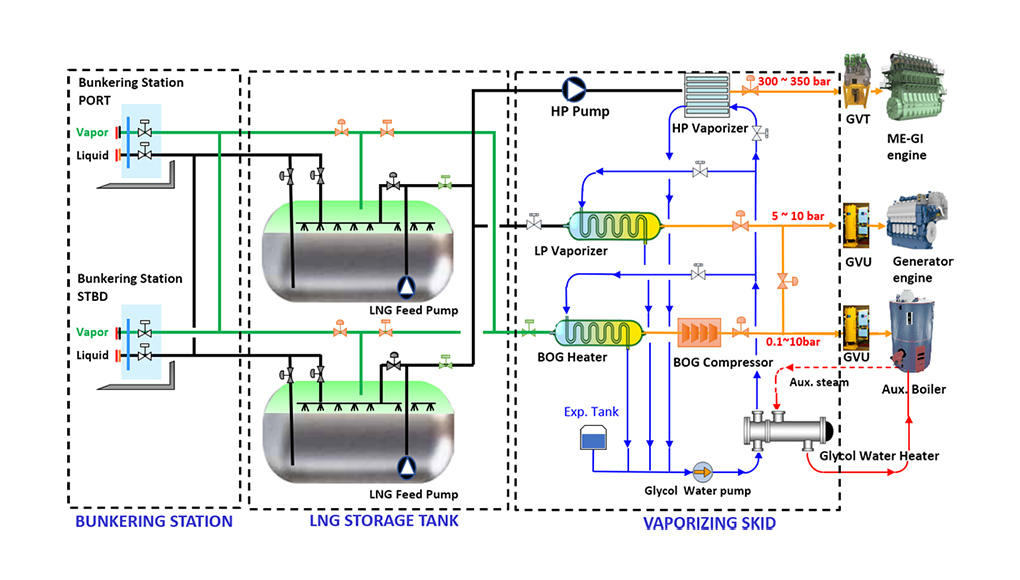 Flow Diagram for X-DF engine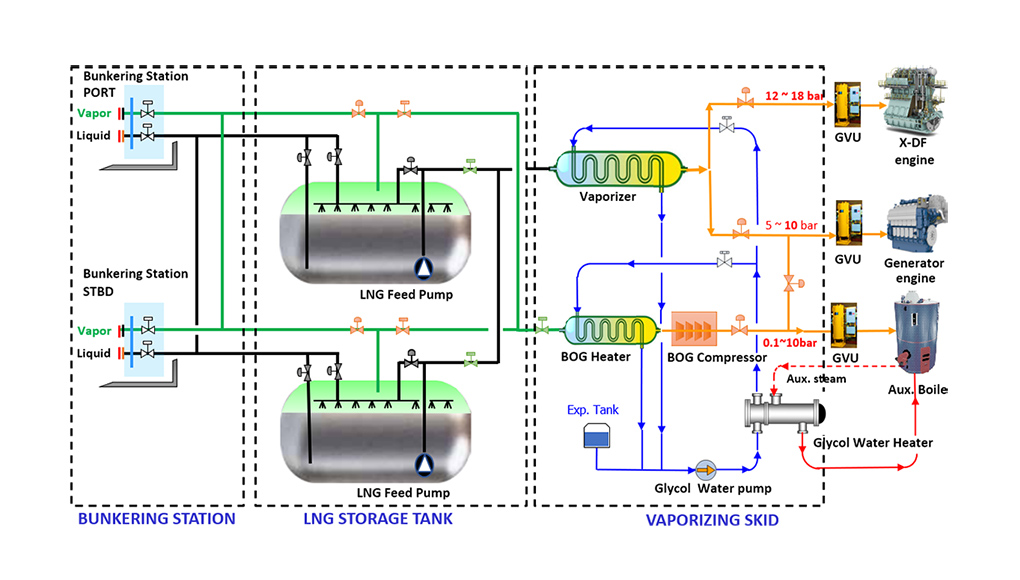 Flow Diagram for DFDE small vessel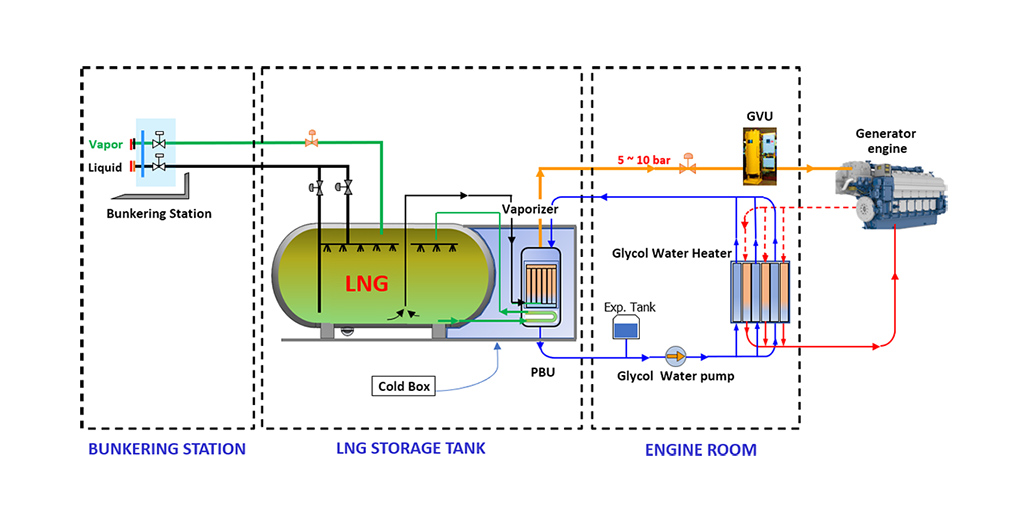 Major Equipment
Bunkering station
1. Quantity

: 2 sets ( Port & Starboard shipside)

2. Liquid Line

: 4 ~ 8" Pipe

Vapor Line: 4 ~ 6" Pipe

3. Dimension ( In accordance with SGMF guidance )

Distance of manifold flanges inboard from ship's side. : 1,100mm
Horizontal distance between flange centers : 1,250 mm
Vertical distance between flange center & working platform : * mm
( * depend on ship's specification )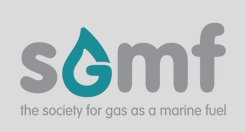 The Society for Gas as a Marine Fuel
Storage Tank
IMO Classification of LNG Carriers( IGC Code)
Independent Tanks (separated from hull structure)
Integrated Tanks (part of hull structure)
Type A
Type B
Type C
Membrane Tank
* Simple Design
* Pο ≤ 0.7 bar
* Full secondary barrier
* Flat Design
* Pο ≤ 0.7 bar
* Partial secondary barrier
* Simple Design
* Pο ≥ 2 bar
* No secondary barrier
* Simple Design
* Pο ≤ 0.7 bar
* Full secondary barrier
LNG Fuel Pump(Submergible Pump)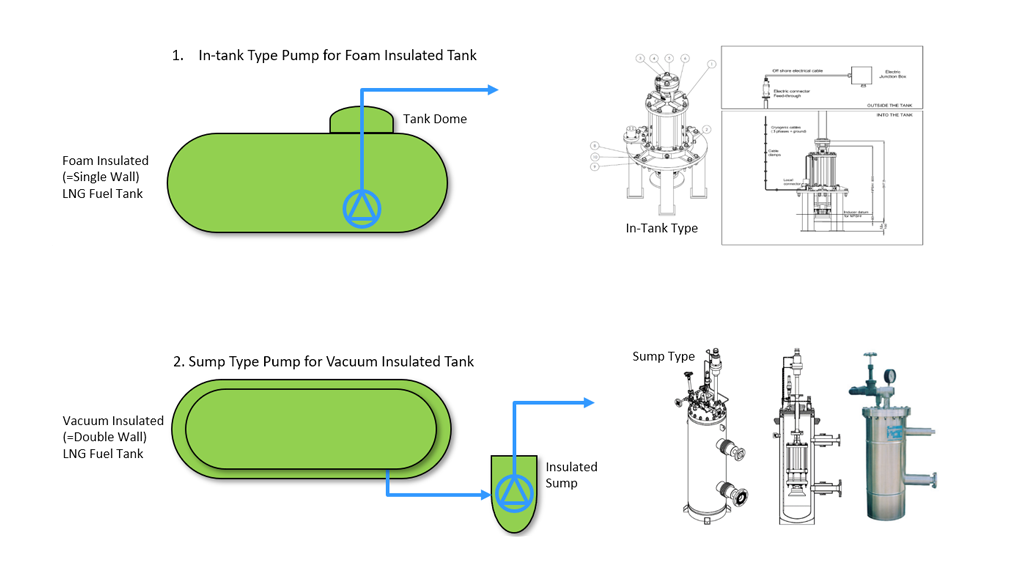 LNG Vaporizer
High Pressure Vaporizer
Low Pressure Vaporizer

Proper for high pressure
Compact size : 25% of Shell
& Tube Type's size
(Small size and high heat
transfer efficiency)

Proper for high pressure
Lower cost than PCHE type
but bigger foot print

High reliability
Easy maintenance
Self anti-fouling effect
by Laminar flow

100 bar + temperatures
up to 400°C
Compact size : 25% of Shell
& Tube Type's size (Smaller foot print but higher
cost than S&T type)
Self cleaning effect due
to turbulent Flow
Control System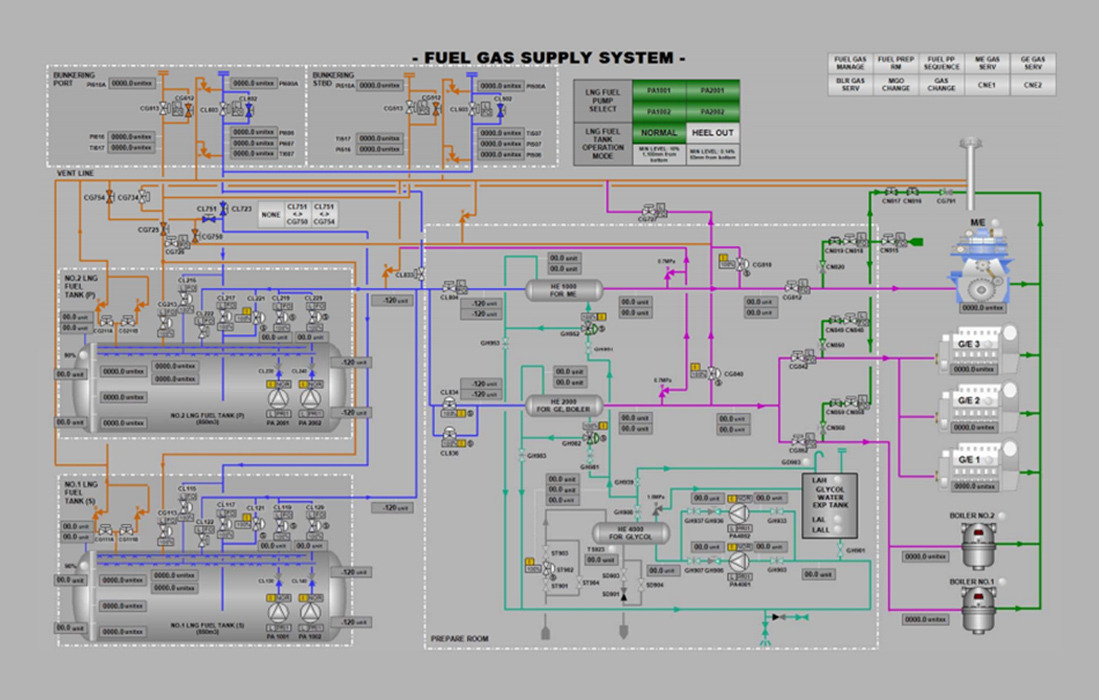 Reference
A-Max COT FGSS
Control system A-Max COT FGSS
Control system MAN ME-GI
Engine Test Bed
- Control system MAN ME-GI
Engine Test Bed Storage Tank
PMR(Pre-cooling
Mixed Refrigerant)
Tank Storage Tank
PMR(Pre-cooling
Mixed Refrigerant)
Tank EcoNuri
Automation
System EcoNuri
Bunkering
of EcoNuri EcoNuri
General
Arrangement EcoNuri
1st LNG fueled
ship in ASIA Ship Particular 1.GT : about 200Ton
2.LOA : about 38m
3.LBP : about 34m
4.Breadth : 8.0m
5.Draft : 2.1m
6.Speed : abt. 15 knot
7.Passenger : abt. 57 persons